Annual Peace Gathering to remember Hiroshima and Nagasaki
August 5 @ 12:00 pm

-

1:15 pm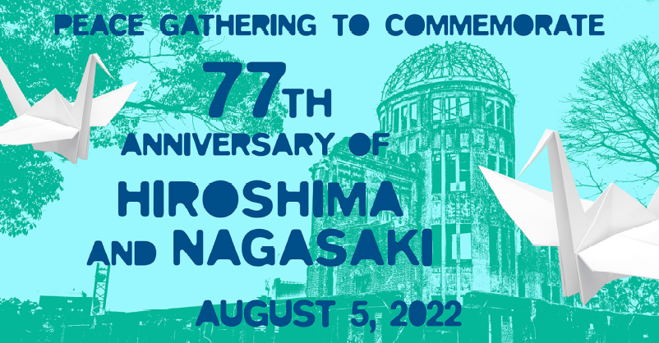 Peace groups in the New York metropolitan area are holding an annual August 5 event to commemorate the atomic bombings of Hiroshima and Nagasaki. Due to COVID-19 pandemic, we held online webinars in 2020 and 2021, but this year we will gather in front of the Japanese Consulate in NYC at Park Avenue and 48th Street. Please join us if you plan to be in NYC.
Please note that we have a strict health protocol to protect ourselves and others. If you plan to attend, please take a COVID-19 test in the morning of August 5. If you have symptoms or test positive for COVID-19, please stay home.
For more information, including an updated list of co-sponsoring organizations and updated health protocol, please check the Facebook event page
https://fb.me/e/1YrGgdCiZ
.
Organizers: Peace groups in NYC
When: Friday, August 5, 2022, at 12pm Noon to 1:15pm
Where: In front of the Consulate General of Japan in NY, 299 Park Avenue, NY, NY (Park Avenue & 48th Street)
Please join us to acknowledge the catastrophic wrong that was done to Japan.
77 years have passed since the U.S. dropped atomic bombs on the Japanese cities of Hiroshima and Nagasaki. It is estimated that the bombs have killed 210,000 people by the end of 1945 and, over the years, have ruined the health of many of the survivors.
The average age of the hibakusha, or atomic bomb survivors, is now 84 years old, and many of them are still suffering from terrible health issues. To honor the memory of those who lost their lives to the atomic bombings, a coalition of people and peace groups will gather in front of the Japan Consulate General in NYC.
The coalition supports the commitment of the Japanese people to protect their peace constitution by retaining Article 9 *.
It encourages them in their continued opposition to Japan's reliance on the U.S.-Japan military alliance and the U.S. nuclear umbrella.
It endorses their efforts to appeal to the Japanese government to play a leadership role in supporting, joining, and promoting the Treaty on the Prohibition of Nuclear Weapons.
The coalition's conviction is that nuclear weapons must never be used again against any nation under any circumstances. The message of peace from hibakusha to the people of the world is an appeal for all to realize a world free of nuclear weapons.
* Article 9:
(1) Aspiring sincerely to an international peace based on justice and order, the Japanese people forever renounce war as a sovereign right of the nation and the threat or use of force as means of settling international disputes.
(2) To accomplish the aim of the preceding paragraph, land, sea, and air forces, as well as other war potential, will never be maintained. The right of belligerency of the state will not be recognized.
Co-organizing groups:
Granny Peace Brigade
Manhattan Project for a Nuclear-Free World
Pax Christi New York State
Peace Action New York State
Veterans for Peace NYC Chapter 34