From the Syracuse Peace Council: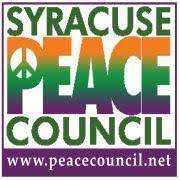 Get Paid to Work for Social Justice!
The Syracuse Peace Council is Hiring
The Syracuse Peace Council, the longest running, independent peace and social justice organization in the country, is hiring TWO Staff Organizers! SPC is a Syracuse-based grassroots group that has been educating, agitating and organizing since 1936 for a world where war, violence, and exploitation in any form will no longer exist. SPC Staff Organizers provide both support and leadership to our program and administrative committees, and facilitate communication with members, supporters, and the general public. Full information is available at http://www.peacecouncil.net/careers.